Related resources
Regional
Accomodation
Transport
Activities
Welcome Flat Hut Warden
Provider: Department of Conservation
Region: West Coast
Duration
Ongoing
Description
There are two to four weeks periods available from 5th January 2012 onwars
Welcome Flat Hut is located in the Westland Tai Poutini National Park and is reached via an 18km hiking track.
Prolific birdlife and towering mountains surround the hut and along with the nearby hot springs have helped to make this the most poplar overnight hike in the park.
Wardens collect hut fees, provide information and are responsible for cleaning and tidying the hut along with some light track maintenance. (These duties will take 4-5 hours per day)
Free accommodation is provided in the staff quarters at Welcome Flat Hut and also in Fox Glacier on days off.
What to bring: normal hiking equipment including good quality hiking pack, strong hiking boots, waterproof jacket, warm sleeping bag and warm clothing.
The minimum period to volunteer at Welcome Flat is two weeks and the maximum is one month.
Visuals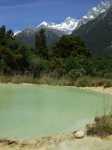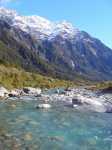 Skills required
Able to communicate well in English, good fitness level (i.e. able to carry a heavy pack for 6 hours), enjoy interacting with people from all over the world and outdoor experience. First aid training essential.