Related resources
Regional
Accomodation
Transport
Activities
Prebbleton Nature Park
Provider: Prebbleton Nature Park
Region: Canterbury
Duration
Ongoing
Description
Prebbleton Nature Park is located on Springs Rd to the south of Prebbleton. It comprises 2.6 hectares of former gravel pit and rubbish dump. The area was leased for grazing until 2002.
In 2003, neighbour Michele Frey presented a concept plan to the Selwyn District Council. Her vision was to restore the natural habitat and create a recreation area on the site of the old gravel pit. The Council approved the idea, and the project is now a joint venture of the Selwyn District Council and Prebbleton Community Association.
When restoration efforts began, much of the site was covered in weeds such as gorse and broom. Volunteers and diggers cleared the weeds to make way for native plants. To date, over 7000 plants have been planted on the site. Hardy plants such as tussock, flax, toe toe, koromiko, kanuka, matipo, and cabbage trees are being planted first. as these plants grow and create shelter, woodland species such as kowhai, totara, kahikatea and lacebark are being polanted. smaller, threatened species are being included such as Olearia adenocarpa, Meuhlenbeckia astonii, M. ephedroides, Teucridium parvifolium, Coprosma intertexta, Euphorbia glauca.
All plants are sourced locally from Canterbury seed sources, with the goal of recreating a truly Canterbury landscape.
Plants are growing very well with the input of the volunteer group. Many native birds have come to live or visit here, invertebrate population is increasing. Skinks have also been abundant. People are using the park regularly now that is is open to the public.
Visuals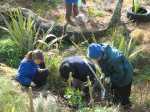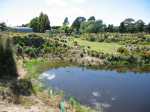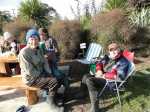 Skills required
Weeding, Mulching, Planting